A DESCRIPTION ON ACUPUNCTURE
Acupuncture has been around for over 2000 years. It was first developed in China. It balances the body, mind and genetics ( Qi, Shen, Jing ). For example when your body is stressed, it produces negative hormones , these negative hormones can cause mental fogginess and or irritability. Other stressors in your body can be diabetes, high cholesterol, high blood pressure to even a simple cold. Acupuncture assist in many immune disorder symptoms by balancing your mind & body.How does it work - inserting painless unserrated disposable needles into specific points on your body surface, to help unblock the negative stressors in your body. Acupuncture is among the oldest healing practices in the world. As part of traditional Chinese medicine ( TCM ) , acupuncture aims to restore and maintain health through the stimulation of specific points on the body. Also examination of the tongue and the pulse are among the principal diagnostic methods in traditional Chinese medicine. The surface of the tongue is believed to contain a map of the entire body, and it is used to determine acupuncture points to manipulate.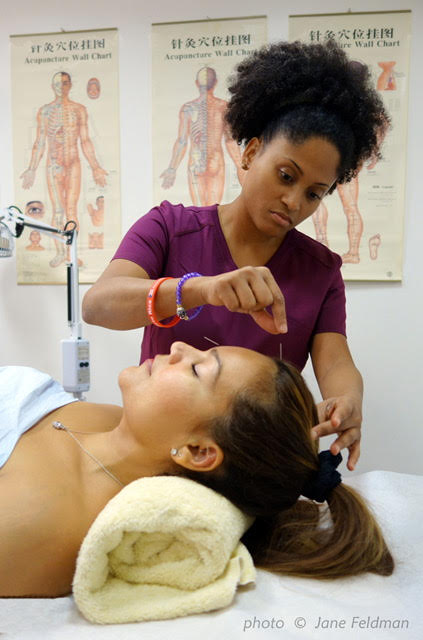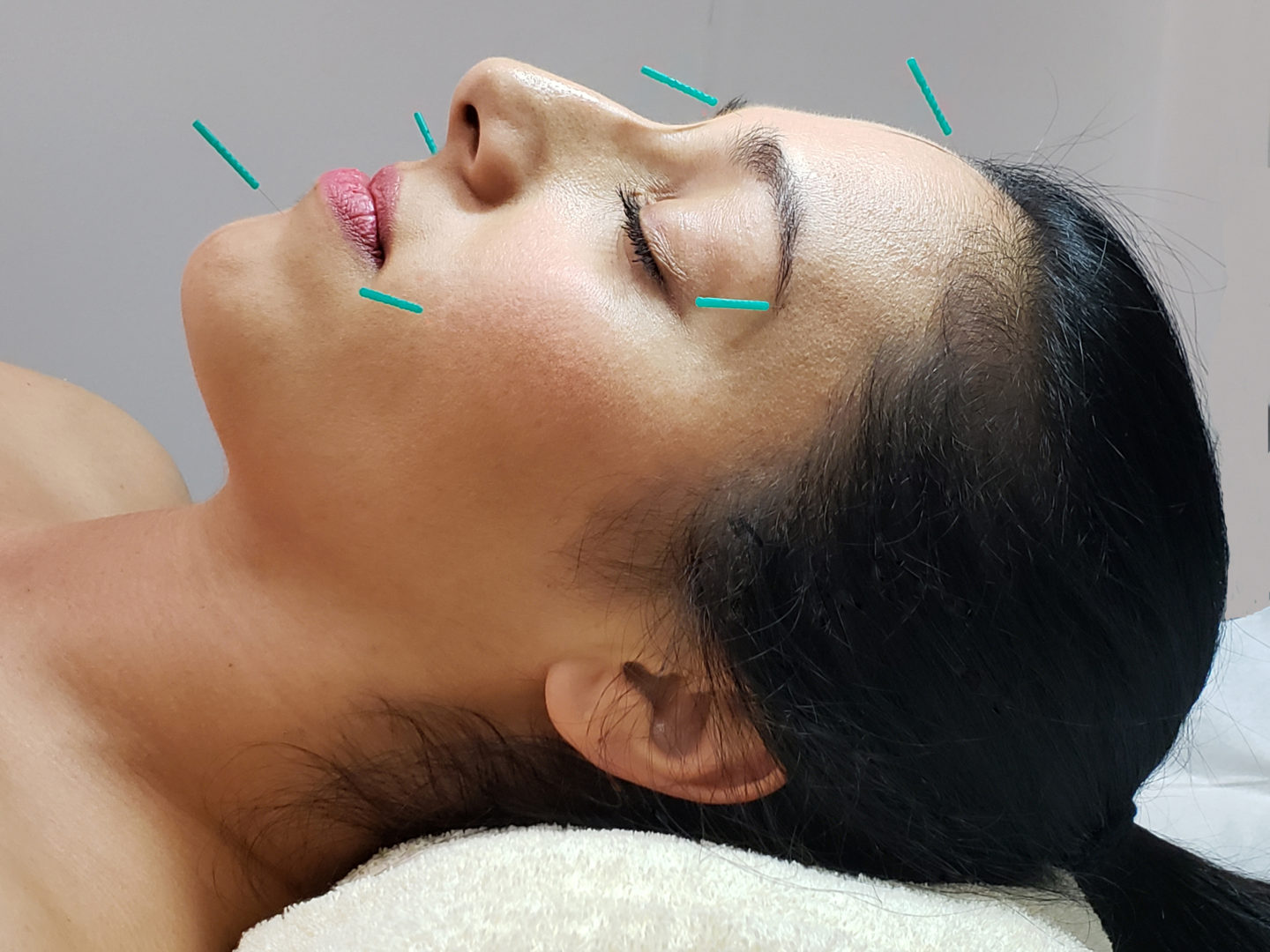 FACIAL REJUVENATION ACUPUNCTURE DESCRIPTION
"Beauty within that benefits your outside appearance" A complete course of treatments is 10-12 sessions at least once a week. Improvements depends on the individual. Other factors are diet , lifestyle and excercise which will determine the effectiveness of results. Keep in mind it's a safe non surgical procedure that may need maintenance after 6 months or plus depending on the individual lifestyle.
Caution : chemical peels and or Botox must be done 2 weeks prior any Acupuncture Facial Rejuvenation treatments.
Facial rejuvenation acupuncture is a wonderful timeless beauty technique used by the Chinese since the Sung Dynasty ( 960-1279 AD ). Today, it is an effective non- surgical treatment to reduce fine lines ,wrinkles and eye bags.
It also improves the density & elasticity of the skin. How does it work - Hair thin needles are gently inserted into specific facial points to stimulate the blood and improve circulation. This is allows removal of any blockage and increases facial elasticity and tones facial muscles.
A healthy glow from the inside out. Keep in mind it's a safe non surgical procedure that may need maintenance after 6 month. Acupuncture Facial Rejuvenation treatment - 1 hour + 30 min. Rejuvenates skin from the inside out. A continuous timeless beauty technique to improve circulation and stimulate the body's natural anti- aging powers. Facial rejuvenation acupuncture may also remove and/or reduce superficial scars.
Facial Acupuncture Treatment
Facial acupuncture treatment – 90 min. | $250
A healthy glow from the inside out. Keep in mind it's a safe non surgical procedure that may need maintenance after 6 month. Acupuncture Facial Rejuvenation treatment - 1 hour + 30 min. Rejuvenates skin from the inside out.
Additional add-on (pricing upon request):
Sports Acupuncture + Massage
Sports Acupuncture + Thai Massage
Sports Acupuncture + Stone Massage
Sports Acupuncture + Cupping
Sports Acupuncture + Massage + Cupping
Sports Acupuncture + Body Alignment
Customized Flora Healing Sports Wellness package (price varies per alignment)
Home visits by appointment only 
Body Acupuncture Treatment
Initial treatment - 90 min. | $200.00
Follow up treatments - 60 min. | $150
FERTILITY SUPPORT, FEMALE AND MALE
Acupuncture $220
Follow-up $175
Add on Features:
Abdominal Therapeutic Massage
Chinese Herbs
15 min. massage with acupuncture treatments- $30
30 min. massage with Acupunture treatments- $45
45 min. massage with Acupuncture treatments- $55
Chinese Herbal Consultations
consultation 60 min. - $100
Additional fee will apply if patient requests more than one formula on the day of service.
Fire Cupping & Suction Cupping
Cupping therapy is a beneficial adjunct to alternative medicine. It Can reduce swelling and pain by improving blood flow, release of toxins, increases circulation of blood and lymph, relaxes tight muscles, and reduces inflammation. It is especially beneficial for those with congestion in the lungs , aches & pain along the shoulders, the back area and abdomen.
All Cupping treatments include a 30 min Tui Na Massage - $50
THERAPEUTIC MASSAGE SERVICES
1 hour Swedish Massage - $120.00
Swedish massage therapy is beneficial for increasing the level of oxygen, blood and it decreases muscle toxins. Swedish techniques are smooth gliding strokes to provide relief from muscle tension, mental tension and poor circulation.
1 hour Deep Tissue Massage - $130.00
Deep tissue therapy is beneficial to release trigger points, unlock chronic muscle tension and relax the mind. Deep tissue therapy focus on the tendons and fascia (the protective layer surrounding muscles, bones and joints).
1 hour Thai Massage - $150.00
Thai Massage Therapy is an ancient healing system that combines acupressure with yoga techniques.
Thai Massage also known as Thai Yoga Massage is a therapy of many yoga like stretching with graceful movements and unique compressions which help invigorate your mind & body.
Tui Na Massage - 45 min. $60.00 : 60 min. $80.00
Tui Na Massage is a form of Massage that has been used in China for over 2000 years. This Chinese therapy uses various rhythmic compression techniques along the body meridian channels to bring harmonious flow QI (energy) and release blocked Qi. Flora healing body works like to describe the channels as your own unique body map of expressions.
15 minute reflexology - $30.00
15 minute peppermint cranial massage - $20.00
15 minute cupping - $20.00
Other Holistic Healing Services
Dr. Flora's generations of ancestral healing:
Medium - 1 Hour Session $200

Clairvoyant - 1 Hour Session $150 

Astrology - 45 Minutes $60

Card Reading - 40 Minutes $50 
All services above are also available for private events
Cancellation | Rescheduling | No Show policy
We kindly ask that you please cancel 24 hours of the appointment time.
Less than 24 hours of the cancellation, reschedule, or no-show ,the full fee will be charge.
Under acupuncture services of any kind : Highly recommended to eat a light snack before all acupuncture sessions.
PAYMENT METHODS ALLOWED ARE CASH PAYMENTS AND MOST INSURANCES ARE ACCEPTED.
SERVICES ARE BY APPOINTMENT ONLY.
Non-refundable deposit is required. The deposit will be used as a future credit at your next service (availability fee).